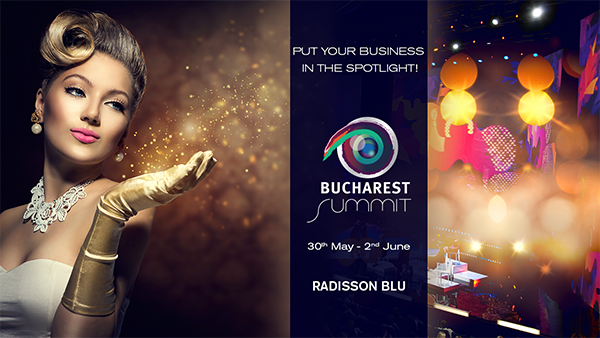 Bucharest Summit
The hotspot for business empowerment
30th of May - 2nd of June 2017
About Our Conference
With Bucharest Summit we aim to create The Festival of the Industry! Our vibrant event will be utterly exquisite, as everything, from our locations and the awards, to the speakers and their talks will be shrouded in lustrous glam.
Bucharest Summit is naturally taking place in Bucharest because the Romanian capital is an industry hot spot, priding itself with top business, talented models and innovative know-how. In a city that lays at the crossroads between the Eastern and Western world, the event aims to bring together both business and entertainment. Experienced speakers will take you on a journey, unveiling all the secrets and sharing their expertise in a diverse range of topics. Want to be up to date with the latest industry subjects, technologies and business strategies? This is the place to be!
We are the performers, the directors and producers of life's best entertainment. This is your festival. Let's celebrate!
Radisson Blu, our venue Hotel
It's really hard to grasp the realities of the eclectic Eastern European style when you're surrounded by sheer beauty in the ideally central located Radisson BLU in Bucharest. Besides having just about every major attraction the city has to offer within walking distance, you also have great connections to major transport lines and the airport.
You will feel absolutely pampered and will have trouble in choosing what to do first: either relax in the saunas from the World Class Health Academy or enjoy a soak in the outdoor jacuzzi you'll find the inner courtyard. After a long day of meetings and finding new business partners, you can always relax in the Bali Spa with an array of massages and body treatments, or enjoy a healthy, energizing dinner and a delicious drink in any of the 8 bars and restaurants you can find on the venue.
You can even feel right at home, if you love Bucharest so much and choose to extend your stay, in one of the Elite apartments with a living, dining and kitchenette and not ever miss any step from your health routine by having an extensively equipped gym with a 22-meter swimming pool on the grounds. We're proud to have you as our guest!

5-STAR ACCOMMODATION IDEALLY LOCATED IN BUCHAREST
Calea Victoriei, 63-81 Sector 1 10065 Bucharest Romania
+40 21 311 9000 | Email Hotel
Our designer hotel in the Bucharest city center is perfectly situated near the Romanian Athenaeum Concert Hall and 3 kilometers from the country's iconic landmark, the Parliament Palace. Within walking distance, you'll find the National Museum of Art and the Memorial of Rebirth which stands 25 meters high in Revolution Square. Guests also enjoy proximity to the metro station, and Henri Coandă International Airport (OTP) is just 18 kilometers from the Radisson Blu Hotel, Bucharest.

In addition to a superb location, the hotel offers 487 rooms and suites with contemporary design and modern amenities. Enjoy conveniences such as interactive TV, a mini bar and This Works® natural bathroom cosmetics. We also make mealtime simple with 5 on-site restaurants and 3 bars to satisfy any taste and fit any occasion. When you are not dining or seeing the sights of Bucharest, take advantage of a variety of 5-star amenities and services. Our World Class Health Academy features a 22-meter swimming pool and Jacuzzi, while the Bali Spa offers a nice menu of massages and body treatments. Additionally, the hotel provides 11 high-quality meeting spaces suitable for up to 650 guests.
Sponsors

Main Sponsor

Premium

Diamond


---